The vinyl resurgence: Record stores are the place to be again in Chicago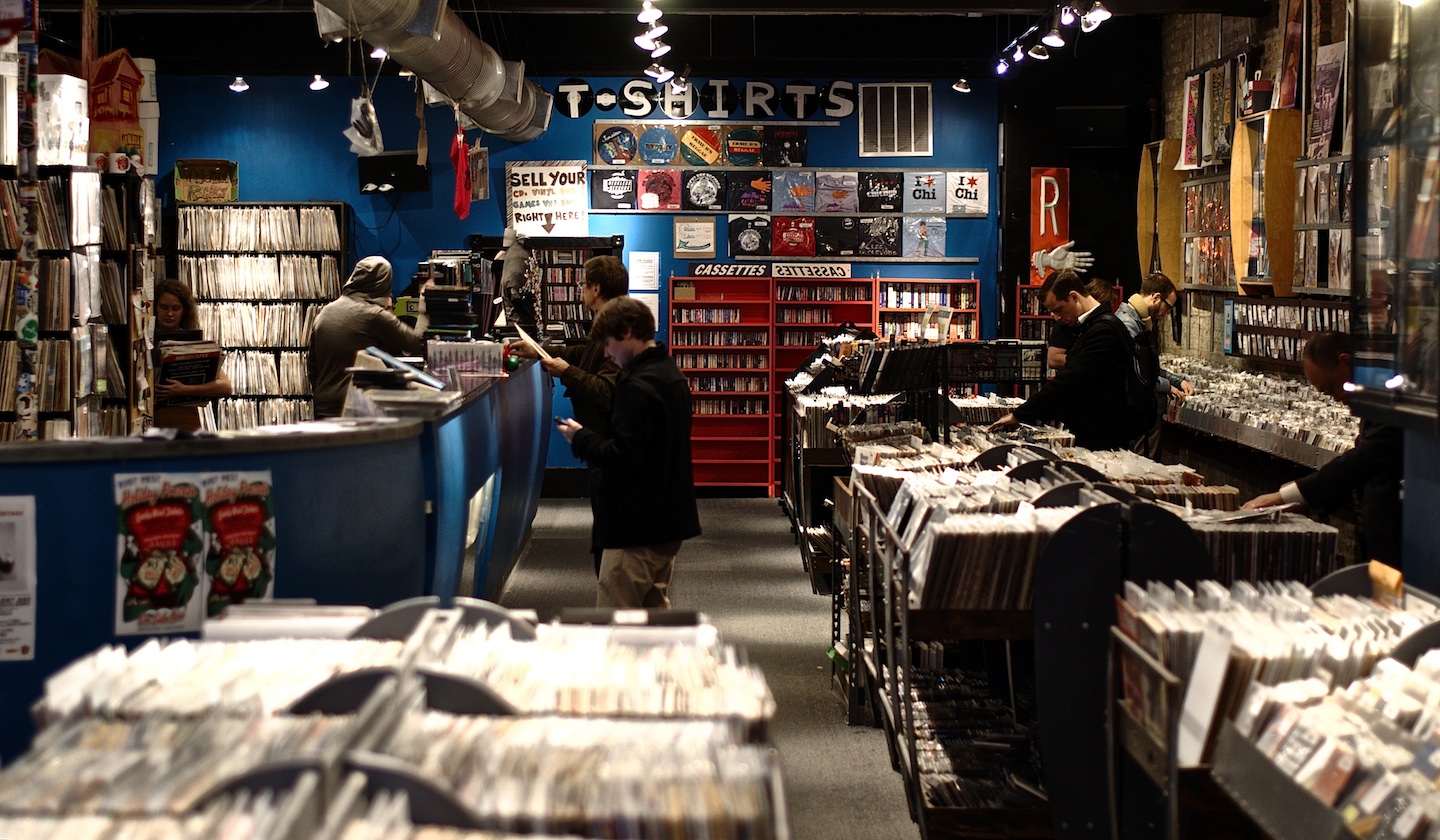 By Scott Hartge
There is no denying that in the past five years, vinyl has gone through a major rebirth. Even with the practicality of CDs, MP3 downloads and the inevitable music pirates, record sales continue to grow each year. Whatever the reason for vinyl's comeback, it doesn't appear to be disappearing again anytime soon, especially in Chicago. Here are a few of our favorite record stores:
Dave's Records
2604 N. Clark
Brief history: Dave's Records, previously the Chicago chain store 2nd Hand Tunes, opened in 1994. The owner, Dave, has worked at the storefront for nearly 30 years. Dave's Records dedicates its inventory solely to vinyl and has been that way for decades.
At first glance: The store may look small when first walking in, but you will quickly realize that there are enough records here to sift through for hours. The walls are lined with used albums, and there are stacks of records on the countertops and racks on the floor under the section of new offerings.
Potential purchases: I saw they had copies of Syro, Aphex Twin's first album in more than a decade, days before its scheduled release. Needless to say I was very tempted, but I opted to buy the latest Cloud Nothings record, putting less of a dent in my wallet.
Fun facts: The entrance of the shop boasts a sign that reads: "NO CDs!! NEVER HAD 'EM!! NEVER WILL!!!" This came from 2nd Hand Tunes, which had two storefronts close to each other — one was an all CD store and the other was an all vinyl store, which became Dave's Records.
Bric-a-Brac Records
3156 W. Diversey
Brief history: Bric-a-Brac Records is a newer record and 1980s and '90s memorabilia shop that was opened in June of 2013 by Nick Mayor and his wife. Not only can you scour through an abundance of garage rock and punk rock records here, you will also find classic '90s toys, VHS tapes, pins, cassettes and tons of movie mementos.
At first glance: Unlike most record stores that adorn their walls with quintessential album covers and band pics, Bric-a-Brac is decorated with classic pop-culture memorabilia. The store is covered in toys that are both charming and very nostalgic for a '90s kid like myself. Ultimately, Bric-a-Brac is an eye-catching store. This is due, in part, to the vibrantly painted walls and giant mural of Robocop.
Potential purchases: As a big fan of punk rock, I was certainly tempted to purchase one of the many Ramones albums, but I found myself drawn to their sizable section of local Chicago bands like Shellac and Twin Peaks.
Fun facts: Bric-a-Brac shows huge support for the thriving Chicago music scene, which is inspiring and helpful to artists. They hold many shows at the store for both local and touring bands, and the owners also let their adorable Welsh corgi roam the store.
Reckless Records
26 E. Madison, 1532 N. Milwaukee, and 3161 N. Broadway
Brief history: Reckless Records is the most recognizable record store in Chicago, though it actually launched in London in 1984. The first Reckless store in Chicago opened in 1989, and there are now three different locations — in the Loop, Wicker Park and Lakeview.
At first glance: When walking into Reckless, the movie High Fidelity immediately comes to mind with its familiar record store vibe. Show and band posters cover the walls, while popular new records play over the speakers. Reckless has a vast selection of new releases, used records, DVDs, CDs and movies. You can easily spend the better part of an afternoon here browsing.
Potential purchases: While at Reckless, I spotted an original pressing of Nirvana's single "Sliver." It was a cool find, and something I pondered spending close to $30 on.
Fun facts: Similar to Bric-a-Brac, Reckless hosts some shows as well. Back in 2012 during Lollapalooza, Jack White played a surprise set at the Wicker Park location. Other big acts like the Deal sisters from the popular '90s band The Breeders played a set in May 2014.
Jazz Record Mart
27 E. Illinois
Brief history: The Jazz Record Mart has been a staple for decades in Chicago, opened more than 50 years ago by Bob Koester. They specialize in jazz and blues collections and are the largest such store in the world.
At first glance: The Jazz Record Mart is as close to wonderfully overwhelming as any record store can get. Numerous rows of records and CDs ranging from blues to jazz, gospel and R&B are on sale. With thousands of releases spanning several decades, it is not only incredible how much music they have accumulated, but it is also an important reminder how Chicago was and continues to be an essential city for the blues.
Potential purchases: I spotted Herbie Hancock's Headhunters and took a mental note about making the trek back to pick it up.
Fun facts: Koester is also the mastermind behind Chicago blues label Delmark Records. Delmark has put out classic releases such as Magic Sam's West Side Soul and Otis Rush's Cold Day in Hell.
Other favorites worth visiting…
Gramaphone Records — 2843 N. Clark in Lakeview
Dusty Groove — 1120 N. Ashland in Wicker Park
Laurie's Planet of Sound — 4639 N. Lincoln in Lincoln Square
Permanent Records — 1914 W. Chicago in West Town
Beverly Records — 11612 S. Western in Beverly