The Big City Blog: "The Bachelor" viewing parties, Sketch Comedy Fest, STOMP on sale and kids for free at Museum of Science and Industry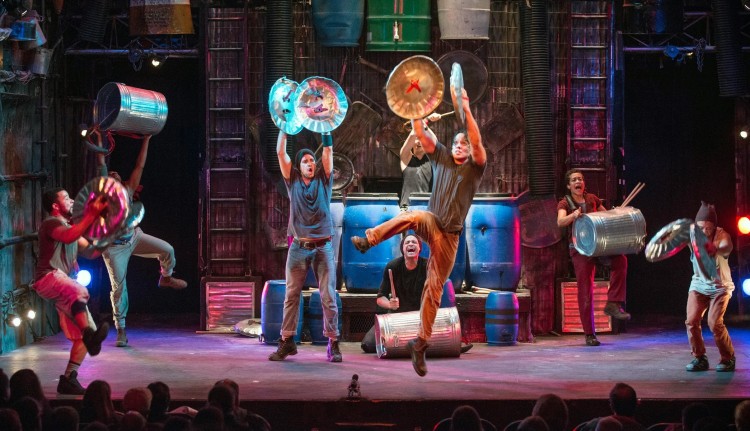 by Gabriella Mikiewicz
The Bachelor viewing parties
Weekly, Monday evenings
Timothy O'Toole's Pub (622 N. Fairbanks)
www.TimothyOTooles.com
With the 19th edition of The Bachelor underway, Timothy O'Toole's doesn't want you to miss any of your guilty pleasure. Get a flute of champagne and relax in front of the 13 screens, including a new 110-inch HD projector, in the back room and watch as 30 ladies seek love from the latest bachelor, Iowa farmer Chris Soules. O'Toole's is cheering on former longtime server, Amber James. On Monday, Jan. 12, Amber herself will be on hand for the viewing party. Each attendee will receive a raffle ticket for a chance to win gift cards to nail salons and beauty stores.
Chicago Sketch Comedy Festival

January 8-18
Stage 773 (1225 W. Belmont)
www.ChicagoSketchFest.com
Quickly becoming the one of the nation's largest and most highly-anticipated sketch festivals, the Chicago Sketch Comedy Festival has attracted upwards of 10,000 patrons annually from around the world. In the two weekends the event spans, audiences can enjoy 169 troupes and 188 shows, featuring more than 1,000 performers. Highlights at this year's festival include Danny Pudi from the TV show Community and festival favorite BriKo. All tickets are just $15.
Rhino Theatre Festival
Jan. 16-March 1
Prop Theater (3502 N. Elston)
www.RhinoFest.com
Rhino Fest features more than new theatre and performance works, along with concerts and panel discussions. Highlights include a premier of award-winning playwright Idris Goodwin, a new piece by Greg Allen of Neo-Futurist fame, and premieres from Realize Theatre and Whiskey Rebellion, as well as a listening session of recorded works by Sherry Antonini and Mark Booth. The event also has something for kids: The Literary Lunatics is composed and performed by a quartet of 10- and 12-year-olds.
Chicago WinterDance
Jan. 17-18 and 24-25
Touring several locations around Chicago
For more info, click HERE
Touring multiple locations across Chicago, the WinterDance festival is a two-weekend experience of dance and culture. Providing four days of dancing, free introductory lessons by professional dancers, and live music at four city locations, WinterDance is free and open to the public. Locations available online.
STOMP returns to Chicago

Jan. 20-25
Bank of America Theatre (18 W. Monroe)
www.StompOnline.com
www.BroadwayInChicago.com
The international percussion sensation is returning and taking over Chicago for one week only. STOMP has grown from a street performance in the UK to an international success over the past 20 years, having been performed in more than 50 countries. The performers "make a rhythm out of anything we can get our hands on that makes a sound," says co-founder/director Luke Cresswell. The crowd-pleasing performance includes a unique combination of percussion, movement, visual comedy, and a lot of random household and industrial objects being used as musical instruments. Tickets on sale now.
Free kids entry to the Museum of Science and Industry

Feb. 1-28
Museum of Science and Industry (5700 S. Lake Shore Dr.)
www.MSIChicago.org
Throughout the month of February, the Museum of Science and Industry will offer free entry to the museum to kids, aged 3-11. Get two free kids tickets for the purchase of each paying adult. Get rid of the cabin fever and experiment and learn at MSI with the whole family. Check out the new exhibit, Numbers in Nature, and get lost in the mirror maze. Run in a human-sized hamster wheel, see lightening strike, manipulate a tornado, climb into a historic locomotive, and more.
Dear John Hughes brings you back to the '80s
March 5-15
Broadway Playhouse March Tower Place (175 E. Chestnut)
www.ForTheRecordLive.com
www.BroadwayInChicago.com
Dear John Hughes is an event showcasing the films of legendary '80s movie writer and director John Hughes. The multi-media concert-style show is designed to celebrate the iconic films of the late Chicago native, including Sixteen Candles, The Breakfast Club, Weird Science, Pretty in Pink, Ferris Bueller's Day Off and more. Tickets are on sale now.
The Illusionists — Witness the Impossible
March 10-22
Cadillac Palace Theatre (151 W. Randolph)
www.TheIllusionistsLive.com
www.BroadwayInChicago.com
Seven of the world's greatest illusionists appear in this jaw-dropping showcase. The event is for all ages and includes a wide array of magic tricks, death-defying stunts and other acts of wonder. The performers include Dan Sperry (The Anti-Conjuror), Aaron Crow (The Warrior), Adam Trent (The Futurist), Kevin James (The Inventor), Jeff Hobson (The Trickster), Andrew Basso (The Escapologist), and Yu Ho-Jin (The Manipulator). Tickets on sale now.