Get outside: We look to our readers for their favorite outdoor venues to enjoy summer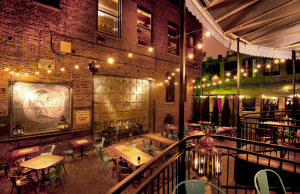 Your ads will be inserted here by
Easy Ads.
Please go to the plugin admin page to set up your ad code.
Chicago is a city that makes the most of its warm, sunny days. Bars and restaurants, especially. It would be impossible to write about every rooftop venue, beer garden and patio we've enjoyed over the years, so we thought we'd open it up to some of our readers to share their opinions on where best to enjoy a meal or drink outdoors this summer.
Plymouth is great downtown. It's low-key and full of locals. Very fun place.
The new Godfrey Hotel owns one of the better skyline views. Very glitzy, and a little more Miami than Chicago, but it was fun.
— Steven Harrell
J. Parker on top of Hotel Lincoln. You can sell of downtown and Lincoln Park. It's a cooler, different view than most other spots because you're not surrounded by the city.
— Jason Ruthkosky
Fireside is a great brunch spot. A friendly group of people, the best build-your-own bloody Mary bar on Sundays. Surprisingly, you don't have to wait to get a table outside on the weekends. The food is consistently good, especially the breakfast burrito and quiche Lorraine.
— Eric Johnson
Sheffield's is an excellent beer garden with a great beer list. The trees add a lot. The barbecue is good too. It's our go-to spot if you can't tell.
— Lou O'Donnell
Kirkwood has a great-sized patio. For a fun time with your friends, grab a fish bowl. You can watch the game on all the flat screens.
American Junkie's rooftop is awfully good for a happy hour too.
The scenes of the city are great at ROOF at The Wit. It's a cool, trendy scene and the place to be after work.
— Christy Stokke
Your ads will be inserted here by
Easy Ads.
Please go to the plugin admin page to set up your ad code.
You owe it to summer to spend a couple evenings — or even daytime drinks — on the rooftop of Packing House. This West Randolph bar and restaurant has a smashing 360-degree city view from the West Loop. The cozy wooden rooftop can make you feel like you are on your neighbor's deck or standing just feet away from a beach. Enjoy the scene and a tasty rum punch.
A new little patio gem in Chicago just off the Randolph Street mecca of restaurants, RM Champagne Salon is tucked  away down a discreet, cobblestone alley. String bulbs and table lights, painted murals, soft blues and wooden, mismatched vintage furniture all come together in harmony as you cozy up here. This is a wine bar, a lounge, a restaurant, an intimate date spot, a girls night destination. For any occasion, this French-style outdoor space is the place to relax and enjoy the ambiance, menu and your company.
— Margot Visconti
Piccolo Sogno's outdoor area is like a secret garden in the most unsuspecting area of West Town. I've been dreaming about a nice glass of wine, a plate of pasta and that beautiful patio all winter long. Surrounded by trees and string lights, it's quite a picturesque spot for date night.
— Taylor Tolbert
My favorite rooftop is Shanghai Terrace at The Peninsula Chicago. It is chic and sophisticated, and they have amazing cocktails.
As for beer gardens, The Diag. I love this neighborhood spot in Lincoln Park. There are so many TVs and lots of cushy seating. It's family friendly, and the food and drinks are always delicious!
— Lindsey Gift Silver
Your ads will be inserted here by
Easy Ads.
Please go to the plugin admin page to set up your ad code.