Good eats at Giordano's: There's so much more than their famous pizza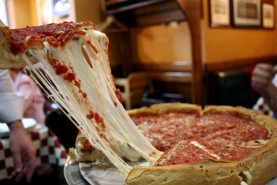 Your ads will be inserted here by
Easy Ads.
Please go to the plugin admin page to set up your ad code.
The Prudential Plaza location of this popular Chicago staple offers so much more than pizza. But oh, the pizza
WHERE YOU'LL FIND IT
135 E. Lake Street, in the Prudential Plaza and just steps from Michigan Avenue and Millennium Park. (312) 616-1200. There are a total of 13 Giordano's restaurants in Chicago. www.Giordanos.com
WHEN IT'S OPEN
Seven days a week, 11 a.m.-11 p.m.
FIRST IMPRESSIONS
Tucked away behind a few large buildings, Giordano's is like a welcoming beacon in the middle of the Prudential Plaza, ideally located mere steps from the hustle and bustle of Millennium Park and Michigan Avenue. … The restaurant has a lot of space, and it's so inviting with the open seating, white-and-red-checkered tablecloths, flat-screen TVs, art deco posters and old-time photographs. … It may sound strange, but there is a level of excitement to the place, stemming in part from lively group conversations and the anticipation of the pizza's arrival.
THE ATMOSPHERE
Casual, friendly, energetic and fun is how we would describe the vibe here. The crowds come early, as Giordano's, especially this location, is a favorite of the tourist market as well as locals who live or work in the nearby skyscrapers. Lunch or dinner, this place gets busy, but that's part of the enjoyment. … Two smiling hosts greet you as you enter the building and really set the tone for an entire evening of quality service. … Patrons tend to range from couples to businessmen, families and large groups.
MENU VARIETY
Let's not kid ourselves, the pizza is what makes Giordano's famous. World famous, actually. But the extensive menu, full of tasty appetizers (bruschetta,
breaded mushrooms, spinach artichoke dip, cheese garlic tomato bread), massive sandwiches (Italian beef, submarine, chicken parmesan), loaded salads and rich pastas (chicken oreganato, baked mostaccioli, shrimp fettucini torino) and desserts is pretty impressive. A nice selection of wine and beer is available from the full bar.
Your ads will be inserted here by
Easy Ads.
Please go to the plugin admin page to set up your ad code.
WHAT WE DID DECIDE ON
Funny how some of us weren't all that hungry when we walked in, but that all changed when we caught the wonderful scents emanating from the kitchen. Between four of us, we thought we chose wisely when ordering, but forgetting about the generous portion sizes at Giordano's sent us home (happily) with leftovers. … After a large, tasty plate of fried calamari that was perfectly crispy outside, we decided on a large stuffed pizza with sausage, mushroom and onions as well as a pair of pasta dishes that came with fresh side salads. … The pizza was truly loaded, and each member of our group liked something different the best — from t
he seasoned sausage or thick, flaky crust to the sweet, homemade sauce or ooey-gooey cheese. Settle in, as the pizza is so wonderfully dense with ingredients it takes at least 30 minutes to bake, but the results are divine. … We also dove into heaping plates of chicken parmesan and chicken fettucini that were rich and full of flavor. In both cases, the chicken was perfectly cooked while remaining quite tender. Not surprisingly, we were too full for dessert, but the options looked tempting to be sure.
SOMETHING THAT CAUGHT OUR EYE
When walking out, it's difficult not to appreciate the reactions. It's incredible to watch people's faces light up when the massive pizza is brought to their table. … The restaurant, between the bar and two large dining rooms, has so much space that it's easy to feel comfortable no matter how big the crowd. Plenty of room to fit anything from couples to large groups. … The fact they have personal-sized pizzas, perfect for lunch and smaller appetites, is a plus. … When we were leaving, we noticed vacationers on their way in who had called ahead and had their pie ready and waiting for them. Talk about getting the most out of your time in Chicago.
WHAT PEOPLE ARE SAYING…
"Let me just say that I'm a New Yorker who loves thin crust, but this place has changed me and my take on pizza. I'll be having some shipped back east for sure – and then hiding it from my roommates."
— SAM from BROOKLYN
"I love coming here, not only because of the variety available for my family, but because I know we're going to end up with leftovers for the next few days. There's so much food, and the pizza is tremendous. Never had anything that compares."
— DANIELLE from SUBURBAN ROSEMONT
Your ads will be inserted here by
Easy Ads.
Please go to the plugin admin page to set up your ad code.