Chicago's claim to fame: Tours for pizza and The Devil in the White City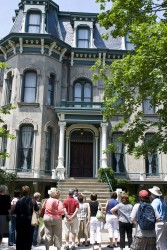 Your ads will be inserted here by
Easy Ads.
Please go to the plugin admin page to set up your ad code.
Experience two unique tours of Chicago you won't soon forget
Second City Pizza Tours offers a unique tasting experience for all the pizza lovers out there. We like to help you discover why Chicago is dubbed the "Pizza Capital of the World" as you sample slices from four pizzerias — two deep-dish and two thin-crust — with one of our pizza-craving tour guides.
Gino's East and Giordano's are classic Chicago-style, deep-dish pizzerias we visit on every tour. I'm often
asked which I prefer, but that's like asking if apples or oranges taste better — it's a subjective experience. Gino's East has an amazing buttery cornmeal crust, while Giordano's has more cheese than I could ever hope for. They're both delicious.
For thin crust, we visit such restaurants as La Madia, for its triple pepperoni pizza with white truffle oil and its three-hour white wine-infused grape pizza with teleggio cheese, or Pizzeria via Stato, for the margherita pizza basked in san marzano tomatoes, hand-pulled mozzarella and basil. We also feature some of the smaller, artisanal pizzerias that may not receive as much attention as the big boys. Each guest receives a full slice of pizza at each restaurant, so nobody leaves hungry.
Tours commence from Giordano's at 730 N. Rush St., and reservations are required.
If you are more of an architecture or history buff, be sure to take one of our architectural and historical walking tours, or the Frank Lloyd Wright Tour via bus.
Your ads will be inserted here by
Easy Ads.
Please go to the plugin admin page to set up your ad code.
Visit www.secondcitypizzatours.com or www.chicagosavvytours.com or call (312) 731-8000.
— George Pudlo
The Chicago Architecture Foundation mixes murder and architecture together on its Devil in the White City Companion Bus Tour, traveling back in time to the 19th century to intertwine the fate of two very different men and the historical events surrounding each.
Legendary architect Daniel H. Burnham helped create the rise to fame of the World's Columbian Exposition in 1893, but also set in motion the opportunities for Dr. H. H. Holmes to become the country's first serial killer. Based on the best-selling book by Erik Larson, the tour begins with a slideshow presentation of photographs of the fair and continues with a bus excursion.
Lovers of architecture, danger and history are able to explore the buildings that fair-goers would have seen more than 100 years ago along Prairie Avenue and Jackson Park. The tour focuses on how influential the fair was on the lives of Chicagoans and how, along with developing lifestyles, it helped shaped a new movement in architecture.
Chicago Architecture Foundation docents provide you with fascinating information regardless of your familiarity with Larson's novel or the tale of the World's Fair and Dr. Holmes' "Murder Castle."
Through the spring, the Devil in the White City Tour runs March 6, 13 and 27; April 3, 10 and 23; and May 8, 22 and 29. The tour begins at 10 a.m. For reservations, log on to www.Architecture.org or call (312) 922-3432.
— Danielle Berry
Your ads will be inserted here by
Easy Ads.
Please go to the plugin admin page to set up your ad code.