Good Eats at Shula's: An epic dining experience at the legendary coach's steakhouse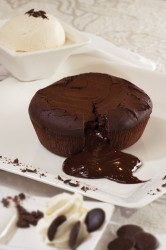 Your ads will be inserted here by
Easy Ads.
Please go to the plugin admin page to set up your ad code.
The legendary coach's steakhouse offers up the "Biggest and Best" for a truly unforgettable dining experience
WHERE YOU'LL FIND IT: 301 E. North Water Street, inside the Sheraton Hotel in the Streeterville neighborhood. www.DonShula.com. (312) 670-0788.
WHEN IT'S OPEN: 5:30-10:30 p.m. seven days a week.
FIRST IMPRESSIONS

If you love sports memorabilia, make it a point to arrive to Shula's early just to soak in all the old photos, commemorative footballs and plaques that highlight not only the NFL's all-time winningest coach — and restaurant's proprietor — but of former greats from across the sporting world. … Shula's historic 1972 Miami Dolphins take center stage in black and white photos with decorative gold frames. … Large, impressive French doors and temperature-controlled wine coolers mark the entrance to a more laid-back bar area up front.
THE ATMOSPHERE
The very definition of a classy steakhouse, only more inviting, and without the pretension found at many others. From its golden-glow lighting and friendly,knowledgeable servers working in shifts to the extensive wine list and decadent menu, it's obvious Shula's rolls out the red carpet for a memorable dining experience. … The restaurant is set up with smaller tables for couples or groups of four as well as family-sized tables, cozy U-shaped booths and even a spacious private dining area, perfect for larger groups or business dinners. … Even when the room is hopping, conversation at the table is never drown
out, which is an important trait of any good restaurant.
MENU VARIETY
Chicago, and other cities like it, is saturated with steakhouses that often try to do too much with overloaded menus, so much so that they forget what their specialties are, reducing the quality of the food and the experience. Well, Shula's is a refreshing return to the norm, with enough gourmet options to satisfy any pallet. The menu is simple, succinct and, well, perfect. They know what they do well, and they stick with it. About a dozen meat ("SHULA CUT" Premium Black Angus steaks, lamb chops, prime rib) and seafood (crab cakes, salmon, lobster) options, along with a tempting list of appetizers (calamari fries, lobster bisque, oysters) and sides (crab mac & cheese, broccoli with hollandaise sauce, massive baked potatoes) fill out the menu. Prepare to be spoiled by an incredible wine list, creative martinis and heavenly desserts.
Your ads will be inserted here by
Easy Ads.
Please go to the plugin admin page to set up your ad code.
WHAT YOU DID DECIDE ON
We went with a scrumptious appetizer sampler that included oysters Rockefeller, oysters on the half shell, bacon-wrapped BBQ shrimp, shrimp cocktail, broiled lobster tail and blackened tenderloin tips. It's not on the menu, but available if you ask and perfect for groups. For the main course, we sunk our teeth into the mahi
mahi, four-pound Maine lobster, Surf & Turf with a generous cut of filet mignon and lobster tail, and … drum roll please … the 48-ounce porterhouse, which, if finished, earns you membership in the "Shula's 48-ounce Club" nationwide. The mahi mahi was blackened and seasoned with just the right amount of kick, and the lobster was so rich and sweet, it almost didn't need the drawn butter. We aren't sure how it's possible to cook a 48-ounce steak to perfection, but it arrivedjust how we ordered it, juicy and loaded with flavor. For sides big enough to share, we chose the grilled asparagus drizzled in a balsamic glaze and the lobster mashed potatoes, which were as delectable as they sound. For dessert, as if we needed it, we selected vanilla ice cream and the molten lava chocolate cake that oozed chocolate sauce when hit with a fork and "should be outlawed in 16 states," according to Mark.
SOMETHING THAT CAUGHT YOUR EYE
Instead of including their steak options on the menu, Shula's creatively takes it to
another level, bringing to your table a commemorative football that lists the different sides of beef, which the waiter will show you samples of. The ball also happens to be signed by one Don Shula. … The staff does a great job of tending to your every need without being overbearing. … The bar area offers a relaxed, chill vibe next to the more formal dining room.
WHAT PEOPLE ARE SAYING…
"Shula's has a way of making you feel genuinely appreciated no matter how big your group. Take your time. This is a place not to be rushed." — MARK, CHICAGO
"Simply the best steak I've ever had. From the moment we sat down until we said our goodbyes, nothing but top-notch service from a top-notch restaurant." — NICOLE, JOLIET, IL
Your ads will be inserted here by
Easy Ads.
Please go to the plugin admin page to set up your ad code.