1920s-style night out: Uncovering Chicago's speakeasy past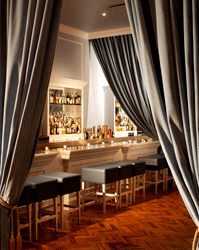 Your ads will be inserted here by
Easy Ads.
Please go to the plugin admin page to set up your ad code.
Several Chicago restaurants and bars carry a 1920s-style feel — and it's all by design

By Megan Green
When Prohibition hit the Chicago streets in 1920, speakeasies started appearing almost overnight. These hidden houses of spirits and socializing gave the public the opportunity to drink, sometimes eat and be merry. Prohibition ended in 1933, and it took the need for a world of speakeasies, bootleggers and rumrunners along with it. However, in Chicago, the spirit of the speakeasy is still alive and kicking some 75 years later. What follows is a look at some of the city's establishments that still treasure a more secretive past.
1914
1914 is a secret, speakeasy-style bar located in the back of the Red Ivy in Chicago's Wrigleyville neighborhood. In true speakeasy fashion, there is no direct entrance to the bar from the street. The only access to 1914 is by traveling through the Red Ivy. This journey is well worth it. From its large, velvet booths with their heavy curtains to its cocktails served in tea cups (this was a common practice during Prohibition to fool the police), this bar captures the feeling of a speakeasy in a way that would make Al Capone smile.
"It is literally like stepping into another era," says Scott Werner, 1914's marketing and bar manager. "The booze is from that era. The servers dress the part and live the part." The bar is called 1914 because of the date it was built. According to 1914's menu, which can be used as a combination menu and history lesson, the space was used for the Traveler's Club Private Affairs Room. When Prohibition hit, the members of this club, along with Chicago's North Side boss, J. Boyle, made the space into a successful speakeasy. It was known only as 1914. The current owners of the Red Ivy uncovered this secret back room and decided to bring back a bit of the grandeur of that era. Luckily, liquor is now legal.
Don't miss: The Roasted Peanuts — a drink with dark rum, lemon juice, orange juice and simple syrup.
1914 is located at 3525 N. Clark, near Wrigley Field. 773-472-0900. www.RedIvyChicago.com
Tommy Gun's Garage
This interactive speakeasy has been around since 1987, although it has only been at its current location since 2004. However, according to Chris Adams, who handles the public relations and marketing, back in the 1920s, before it was a tourist-friendly speakeasy, Tommy Gun's original building, which is just down the street at 2110 S. Wabash, was three stories of anti-Prohibition entertainment.
Now, it is known as "Chicago's only original speakeasy dinner theater." Inside, you will find yourself in the world of the 1920s, complete with flappers, gangsters, music and memorabilia. Tommy Gun's Garage offers its audience a fun and tasty time with some authentic history thrown into the mix.
Don't miss: The prime rib — It gets rave reviews.
Tommy Gun's Garage is located at 2114 S. Wabash in the South Loop. 773-Rat-A-Tat. www.tommygunsgarage.com
The Green Mill jazz club

If you are looking for an authentic Chicago scene, the Green Mill is the place to go. This bar opened in 1907 as Pop Morse's Roadhouse, and, through the years, it has had many different names and owners. However, the Green Mill truly made its mark during Prohibition as a popular speakeasy. Al Capone was a frequent guest. He had a special booth in the middle of the bar to make sure he could clearly see both the front and back doors. It was even partly owned at one time by "Machine Gun" Jack McGurn.
Your ads will be inserted here by
Easy Ads.
Please go to the plugin admin page to set up your ad code.
The current owner, Dave Jemilo, bought the bar in 1986 and restored it to its speakeasy-era glory. Inside the Green Mill, you are quickly transported to a different time with the décor and plush booths. Ask a friendly bartender to show you Al Capone's booth and tell you about the secret passageway under the bar (Yes, there was one.). According to Jemilo, the Green Mill's ability to stand the test of time can be attributed to its multi-faceted nature. "We get people coming here for different reasons," he says. "We get jazz people. We get people interested in the gangster lore. We get people for the décor."
Don't miss: The music — Nothing adds to the ambience of the Green Mill like its live music.
The Green Mill is located at 4802 N. Broadway in the Uptown neighborhood. 773-878-5552. www.greenmilljazz.com
The Violet Hour

The Violet Hour, which opened in 2007, is only recognizable from the street by a single light bulb and a barely noticeable door handle. The adventure to find it only makes what you will discover inside all the more satisfying. The wood-paneled exterior of this bar is in stark contrast to the chandeliers and dark cerulean blue curtains adorning the interior.
Co-owner Terry Alexander wanted it this way, aiming to create a place that could be a true and lasting cocktail experience. "(The Violet Hour) is not meant to be trendy," Alexander says. "We want it to stand the test of time." With its unique turn-of-the-century drinks, candlelit atmosphere and expertly trained mixologists, it probably will.
Don't Miss: The Eyes Wide — a drink with Bulleit, house-made Raspberry syrup and hibiscus syrup.
The Violet Hour is located at 1520 N. Damen Avenue in the Wicker Park neighborhood. Call 773-252-1500. www.theviolethour.com
Brando's Speakeasy
Owner Dino Vulpitta named Brando's after his son. The speakeasy part comes from a few different places. Vulpitta wanted this downtown locale's name to be "Brando's Speakeasy" because of the building's age (It is 100 years old.), his family's Italian-American heritage and to honor what speakeasies were all about. "They were a place to go and get away," Vulpitta says. And, that is exactly what Vulpitta gives people. Each night of the week offers something unique. From different bands and popular karaoke nights to the sports nights and the occasional burlesque show, Brando's Speakeasy has a little something for everyone.
Don't Miss: Karaoke nights — You will certainly hear some Frank Sinatra and possibly see some performers from the theatre district.
Brando's  is located at 343 S. Dearborn downtown. Call 773-216-3213. www.brandoschicago.com
Your ads will be inserted here by
Easy Ads.
Please go to the plugin admin page to set up your ad code.