The Big City Blog: My life as a Chicago tour guide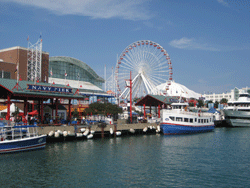 Your ads will be inserted here by
Easy Ads.
Please go to the plugin admin page to set up your ad code.
How serving as a tour guide helped create a true appreciation for my new home
By Jessica Levco
When I started my job as a Chicago tour guide, I had no idea what I was talking about.
But, the trick was, I couldn't let my 70 tourists find out.
Around this time last year, I decided I was going to leave the Sunshine State for the Windy City, in the midst of what would be one of Chicago's most bone-cracklin' cold winters. When people on the tour bus asked me why I left Florida, I simply responded: "I just wanted to know what pneumonia felt like."
As crazy as it seems, I moved to Chicago to simply live in Chicago. I heard about the amazing architecture, politics, deep dish pizza and the vibrant music scene. But I didn't have much of a plan (or an immune system) when I came up here in January.
For the first few weeks, I was convinced all my problems would be solved if I could be an audience member on Oprah's episode, "My Favorite Things." But my rent check was due soon, and reality hit: I had to get a job. Like a lot of 20-somethings, I responded to an ad on Craigslist, and within a few weeks, I had my first 9-5 office job in the Loop.
It didn't last long.
My favorite part about that job was when it was over. I just loved being outside and seeing Chicago. I was immediately reminded why I moved here — to ride the El, to feel the energy and to meet people who weren't born during the Great Depression.
Soon, my misery with my 9-5 job forced me to ask: What was the point of living here if I was stuck in an office all day? Wasn't there something more for me here? Once I started asking myself questions, I got an answer. I saw an advertisement in a newspaper that spoke to me: The opportunity to be a tour guide of Chicago on top of double-decker buses.
"But you've only lived here for four weeks," a co-worker said when I told him I was quitting. "You don't know anything about Chicago."
True. But that didn't mean I couldn't learn.
Your ads will be inserted here by
Easy Ads.
Please go to the plugin admin page to set up your ad code.
And so began my journey, riding around on top of double-decker buses, pointing out buildings, quoting Daniel Burnham and listing off the ingredients of a Chicago-style hot dog. My tourists were eager and energetic to learn about the city, and I was happy to share with them what I had read from books.
And once I started to see myself as a Chicago resident, I started telling stories like one.
When the Batman movie "Dark Night" premiered, my tour was filled with every Christian Bale reference I remembered from the film. I got into poetry this summer and would read Carl Sandburg poems to passengers as we rode around Lake Michigan. I recommended tasting the sautéed goat meat at the Taste of Chicago, told stories about hanging out at the Green Mill listening to jazz with friends, and seeing the fireworks for the first time over Lake Michigan.
Passengers were always complimenting the city and telling me what a good time they were having on vacation. Their Chicago experience gave me the chance to see it through their eyes. The CTA train looks like an accordion; the Jeweler's Building looks like a gift from the Kremlin; the Pritzker Pavilion looks like a bunch of tin cans.
Even though I met people from Dubai to Dixon, Ill., there were universal elements on the tour: Everybody crammed their neck to look at the Sears Tower, pointed at the hole for the Spire and marveled at Lake Michigan. The sites didn't get old to me, either. What always struck me was the skyline — the biggest building we had in Winter Haven, Fla., was the Orange Dome.
As with my old job, my favorite part of my day was when it was over — but for different reasons. I saw Loop employees fill up the CTA and El, and I was glad I wasn't one of them. Even though I was still working, my work didn't feel like work. Being a tour guide gave me the opportunity to keep learning, reading and experiencing all that Chicago can offer.
Most importantly, moving from a small town in Central Florida to a city with three million people gave me a sense of purpose.
I'll never forget what an elderly woman said to me near the end of my summer: "Jessica, it sounds like Chicago has given you so much," she said.
Yes, it really has.
Your ads will be inserted here by
Easy Ads.
Please go to the plugin admin page to set up your ad code.