Getting away for a day: Great locations to explore beyond Chicago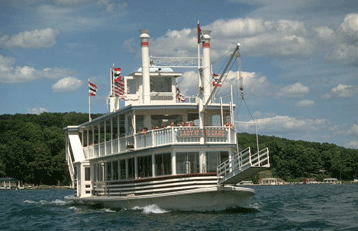 If you're looking to explore outside the city for a day or two, here are some enjoyable options
By Kristen Prosise
First off, we love Chicago, and we advise you, the tourist, to stay as long as possible to experience its charm. We think you'll understand why once you realize how much there is to see and do here.
But we also understand how it can be good to get out of the city once in a while, as there are plenty of worthwhile spots to visit that aren't under the shadows of the tall buildings.
Whether you're looking to get out of town for a few hours or a few days, here are six easy getaways that will help you relax, recharge and rebuild your appreciation for the Midwest.
Lake Geneva, Wisconsin
Located just about an hour and a half northwest of Chicago, Lake Geneva has long been a relaxation destination for Chicagoans. This picturesque town with its unique shops, popular bed & breakfasts and amazing lakeshore,
helped make Lake Geneva one of the dozen distinctive U.S. destinations in 2009, as recognized by the National Trust for Historic Preservation in Washington D.C.
According to Grace Eckland of the Lake Geneva visitor bureau, Lake Geneva has been Chicago's playground ever since the great Chicago Fire of the late 19th century. Many people who lost their homes in the fire relocated to Lake Geneva to rebuild their lives.
Black Point Mansion, a Queen Anne-style home constructed in 1888, is a point of attraction for tourists looking to soak in some of the history of Lake Geneva. Access to the mansion is granted through the Lake Geneva Cruise Line, which stops at the landmark during seasonal tours.
Yerkes Observatory is home to the world's biggest lens telescope, the 40-inch Refractor. The observatory is a facility of the University of Chicago Department of Astronomy and Astrophysics. Free public tours are given every Saturday of the year between 10 a.m. and 1 p.m., lasting about 45 minutes each. Escaping the city lights of Chicago to admire the big open sky over Lake Geneva is an experience that will not disappoint.
In general, people come to Lake Geneva to be on the lake, as the pristine water appeals to the masses. "Twenty feet off the water's edge is considered public domain, so you can walk along the entire shoreline even if it's through people's front yards," Eckland said of the tradition established by early settlers of Lake Geneva.
It's a family destination and romantic couple's getaway, with indoor and outdoor activities year-round, including great spas, shopping, resorts, water sports and golf. For more information, visit www.TravelWisconsin.com
Kenosha, Wisconsin

For just a day trip to the Dairy State, consider Kenosha, located just over the state line. Spend the day bargain hunting at the Prime Outlets in Pleasant Prairie, which house more than 90 brand-name stores like Calvin Klein, GAP, Coach, North Face and Nike to name a few.
Overnight accommodation packages are available at area hotels that include store coupons and gifts with reservation bookings. Visit www.primeoutlets.com for more information.
During a visit, stop along the harbor to see the two historic lighthouses of Kenosha. The Southport lighthouse, standing 55 feet tall, was built in 1866 and is listed on the National Register of Historic Places. Pierhead lighthouse is along the same harbor and stands 50 feet tall. Visit www.kenoshacvb.org for more information.
Lake Michigan Shore Wine Trail

Heading southeast of Chicago for a weekend or a day could be the cultured escape you've been waiting for. Between the quaint and artsy towns of Southwest Michigan lies the Lake Michigan Shore Wine Trail. As the leading
wine producer in the Midwest, Michigan boasts a $300 million wine industry, according to Aaron Harr of the Fenn Valley Winery. In all, 12 wineries are part of the wine trail association of Michigan, and they've all got their own unique stamp.
Fenn Valley Vineyard and Winery of Fennville, Mich., represents the largest AVA wine region in Michigan, with 230 acres of land. Owned by the Welsch family, this winery features 49 different styles of wine and 16 types of grapes. Their grapes produce high-quality wines in the traditional European style, which is known to be more food friendly.
Through the spring and summer months, visitors to Fenn Valley can reserve a space at any of the numerous upcoming events. Pre-release winemaker's dinners, in which a gourmet meal is served along with six pre-release wines, are common.
The "real treat," as Harr describes, is the Fenn Valley Wine Festival, formerly called the "open house," which typically takes place in June. At this annual event, the doors are opened for the public to enjoy several tasting stations, live music and various ethnic foods. The price of admission is $7.50 but includes a complimentary glass of wine and the wine glass as a take-home memento.
Throughout the year, Fenn Valley's tasting rooms are open to the public for free tastings, and vineyard tours run from late August through October. The other 11 wineries in southwest Michigan are all located within 150 miles from Chicago and all feature their own unique wine styles. Visit miwinetrail.com for more information.
Galena and Jo Daviess County

Galena and Jo Daviess County is located about three hours northwest of Chicago and embodies the quiet, calm, beauty of our state.
Stockton, Elizabeth and Woodbine are three towns that are worth stopping at before reaching Galena. All three are known for their galleries, museums and antique shops, as well as the 1900s architecture that is seen throughout Jo Daviess County.
Liz Bulasko of the Galena/Jo Daviess County convention and visitors' center recommends the Heritage Museum of Stockton, the Apple River Fort of Elizabeth and the golf course of Woodbine. In the warmer months, take a stroll through the Farmer's Market in Elizabeth, or participate in a one-day bicycle tour through the entire county.
Upon entering Galena's historic downtown, tourists will notice the 19th-century brick and frame storefronts that highlight the wonderful shopping area. Visit the historic Ulysses S. Grant home and the history museum that holds several Civil War artifacts. Travel up "Quality Hill" on High Street, which features mansions that were built by bankers, lawyers, judges and doctors during the lead-mining boom of the 1890s. Or take a guided tour through the underground Vinegar Hill lead mine.
In the spring and summer months, enjoy outdoor activities like kayaking on the Galena River, fishing, hiking and camping. Or take in the view of the Mississippi River in outlying western Galena.
For more information about Galena and Jo Daviess County, visit galena.org or call 877-GOGALENA.
Chicago Botanic Garden

In the northern Chicago suburb of Glencoe lies a beautiful day getaway for any local nature lover. Admission is free to the Chicago Botanic Garden, where an individual, family or couple can enjoy the many garden
attractions.
Indoor and outdoor dining is a treat at the garden café, which supports locally grown products. After lunch, stroll through several gardens, greenhouses and native habitats. The Japanese garden is one of the island gardens that shows off its dogwood and pines during the winter months as well.
In warmer weather, take a grand tour of the spacious gardens aboard a narrated tram. You can also participate in educational classes for adults or families, attend a flower show or just relax and peruse the beauty of nature on your own. Visit www.chicagobotanic.org for more information.
Arlington Park and Race Track

For another suburban day out, check out the Arlington Park and Race Track. During the late spring and summer months, visitors enjoy the beauty of the park and the excitement of a day at the races.
Sit in the grandstand for an action-packed view, or have a picnic with friends and family in the park while watching the races — these options are all available with the $7 price of admission.
Children under the age of 17 are free. Gamblers can learn about the horsemen and their horses while watching and wagering.
Visit www.ArlingtonPark.com for more information.