Stepping out on "The Ledge" at the Willis Tower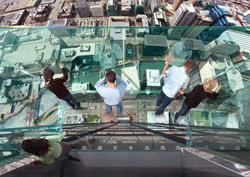 The Willis Tower's new adrenaline-inducing glass ledge can cure a fear of heights in anyone
By George Vlahos
Let me make one thing perfectly clear: I am absolutely terrified of heights. So terrified that the mere thought of being high above the earth makes me cringe. I have attempted numerous times to overcome my fear with little success.
My recent battle came when I ventured to the Sears, er, I mean Willis Tower, accompanied by my brothers, to explore the newest addition to the famous Chicago skyscraper. It's called "The Ledge," and it's a series of glass bays that extend out from the building's 103rd floor. Reaching out more than four feet from Skydeck's west side, visitors have unobstructed views of Chicago — some 1,353 feet straight down.
As I arrived at the third tallest building in the world on a sun-filled afternoon, I took a long look upward and realized there was no turning back. The line to buy tickets was quite lengthy, and I'm willing to bet I was the only person in line to break out in a cold sweat. Of course, my brothers, sensing that I was scared out of my wits, capitalized on my anxiety with a little good-natured but unmerciful heckling. As I walked slowly toward the new "ledge" of the observation deck, they walked behind me, snickering loudly. The slower I walked, the more they pushed me toward the glass.
Not surprisingly, the line for the ledge was short. When it was my turn, I cautiously walked the last few feet with my body shaking, taking baby steps out to the glass box.
In the short period of time I was out there, I peered down at the cars and people on the streets below, looking every bit like little multi-colored ants. To be standing more than 100 stories up, on nothing but glass, was admittedly an incredible adrenaline rush.
I was very happy to have faced my fear of heights head on, and the experience has motivated me to conquer my many other fears. Darkness, perhaps, may be up next.
The Willis' Tower Skydeck is open daily April-September from 9 a.m.-10 p.m. and October-March from 10 a.m.-8 p.m. For more information, visit www.theskydeck.com or call 877-SKYDECK.