First Look review: 5 Lesbians Eating a Quiche is a hysterical look at sexual orientation in the '50s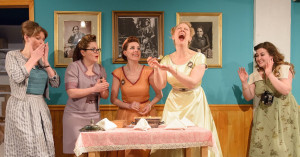 By Clare Edlund
Playing at: The Chopin Theatre, 1543 W. Division, through June 8. For tickets, visit www.5LesbiansEatingAQuiche.com or call (773) 404-7336.
Basic storyline: Based in 1956, five women are gathered in a church basement as part of the Susan B. Anthony Society for the Sisters of Gertrude Stein's annual quiche breakfast. When a possible atomic bomb strikes their town, the ladies (and you, the audience) are stranded in the basement for the next four years.
What to expect: Whether you like it or not, you are a "woman" the second you enter the Chopin Theatre. You're given a nametag with a woman's name (Sue, Marjorie etc.) as a member of the Susan B. Anthony Society.
Expect lots of laughs and a few tears — and don't be so quick to assume, as the show will have quite a few surprising twists toward the end.
Expect the actresses to speak with you personally before the show. Don't be that one lady who does not bring a quiche, and be prepared to possibly yell out "I am a lesbian!" (It'll make sense later.)
What stood out: Even if you are not quick to infer, the double innuendoes will — at times hysterically — convey a message about gender and sexual orientation. The women's funny obsession with quiche in their little secret society, and their motto, "Respect the egg," implies that their womanhood is most important to them. Other hints will pop up throughout the show, which will help you think logically about, and feel the emotions involved with, sexual orientation in the 1950s.
The five women, all with dynamic personalities, are hilarious in their own unique ways. This is why the show succeeds in bringing so many laughs. Whether your taste of humor is crude, sexual, witty or slapstick, these women will have you in stitches with no qualms.
Final thoughts: One of my new favorite plays. The women are funny and vibrant, and the play satirically raises issues that will make you respect quiche at the end of the night.