First Look review: Cirque Shanghai — Year of the Dragon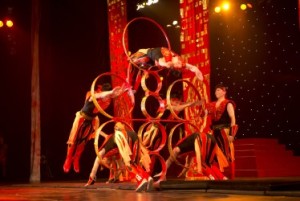 Witness acrobats, daredevils and contortionists galore in this colorful spectacle
By Nicole Weddington
History: The creative team International Special Attractions (ISA) was established in 1989 and has been producing large-scale attractions over the last 20 years. With the
help of Haiping Fe, the show's producer, ISA was the first company to bring Chinese acrobats to Broadway, where Cirque Shanghai had a successful run. The show's director, Miao Miao Chen, is a second-generation performer who joined the Shenyang Acrobatic Troupe when she was 13 years old.
Basic storyline: The show features a variety of acrobats, daredevils and contortionists ac­complishing incredible acts of balance and flexibility (the Group Chair Stack comes to mind) at an incredibly fast pace. Some of the things you will see include foot and hand juggling, hoop diving, tight-rope walking, tum­bling, jumping, dancing and a hilarious balanc­ing act that includes a member of the audience.
What stood out: My favorite of the 14 acts was called "Silks." The beautiful and elegant spectacle showcased a woman twirling with silk cloth. It appeared as though the girl was flying and showed the incredible flexibility and strength possessed by these performers. The "Wheel of Destiny" had me sitting on the edge of my seat. This dangerous act featured men ru
nning on the outside of two wheels that were attached while the contraption was moving and both wheels were spinning. At one point, the performer ran on the outside of the wheel with a bag over his head, almost falling several times. The show closed with the "Wheel of Death," which featured five daredevils from a motorcycle troupe driving inside a huge metal globe at top speed.
Final thoughts: This colorful show will make you gasp and laugh from one moment to the next. The beautiful costumes, lights and death-defying performances will entertain people of all ages.
Cirque Shanghai is at the Navy Pier Pepsi Skyline Stage through Sept. 3. For more infor­mation, visit www.navypier.com/cirqueshanghai