Six-string art: Classic license plate guitars at Arts & Artisans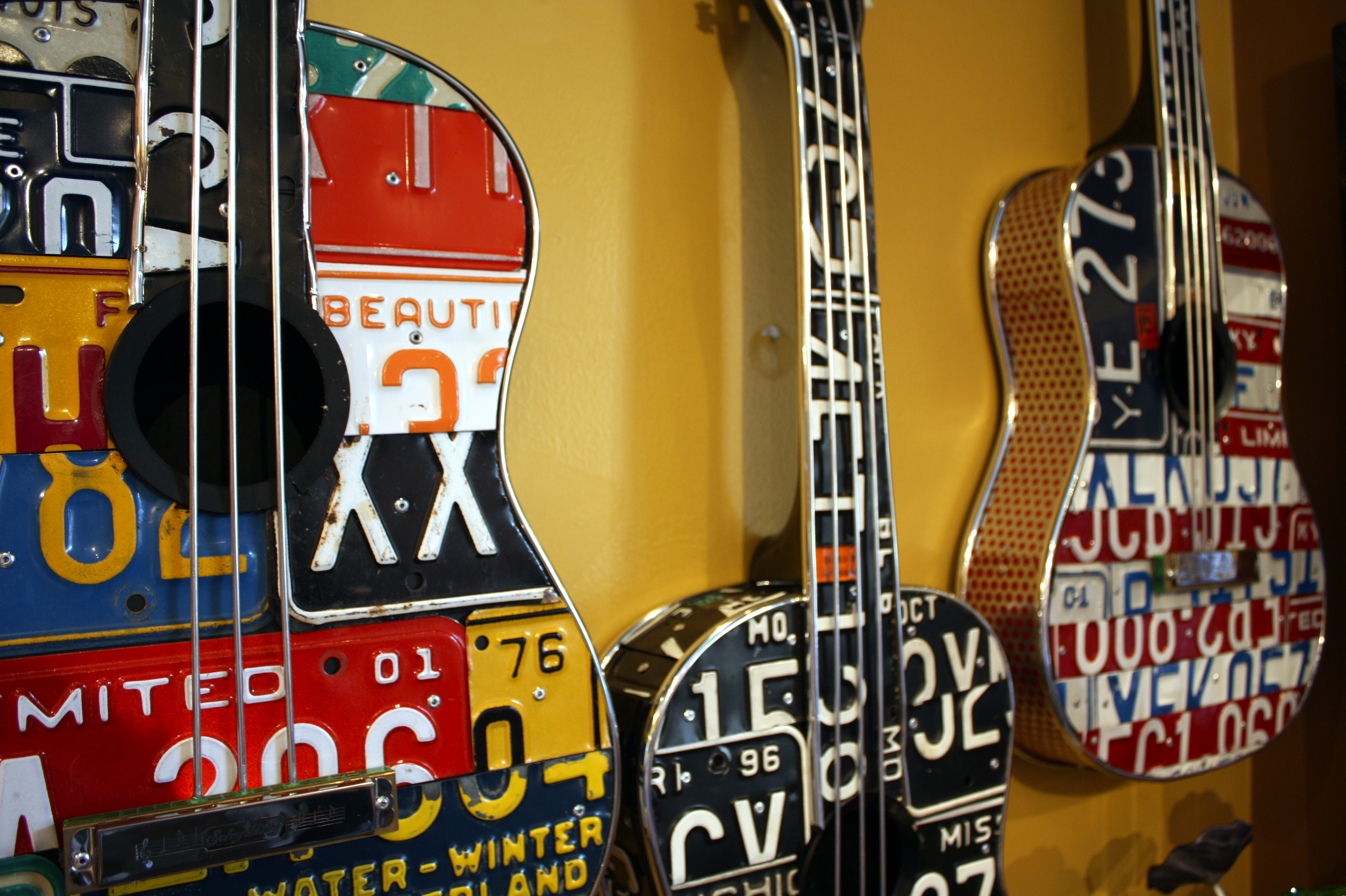 Carol Braden's collection of unique guitar wall art is available at Chicago Arts & Artisans stores
By Phasha Spencer
For someone who has been around guitars all her life, it was a simple choice for Carol Braden to use one of the most universal and recognizable American icons and design something truly unique: guitar wall art made from old license plates.
Combined with her passion for vintage items, she often wonders what stories the plates hold,
who owned them and the journey they've traveled. For her, it's a reflective feeling, and one that carries over into her guitars as they come to hang on some stranger's wall.
Some of her designs are contemporary, filled with colors that pop and grab your attention. There is one in Arts and Artisans stores that is titled "Carnival," and when you see it, you'll know why. The design is so fun and youthful, the name is perfectly fitting. Some of her other designs are more old-school, using rustic and antique license plates dating back to the 1920s to give them a truly classic look. They are hip and cool, and have an artistry that is timeless, just like an antique should. She's also created guitars with stars-and-stripes or world-of-music themes, and her denim guitar collection is enormously popular.
"It's all about the mix of colors and patinas and the mood they evoke," says Braden, who describes the feeling she gets when she's designing a new guitar as "nostalgic."
Braden buys from various license plate enthusiasts all over the country and is currently making 15 guitars a month.
"From procurement of plates, to cutting, to designing and finally executing and finishing, it takes about 15 hours to make one guitar," says Braden.
Her work is represented by 15 prominent fine art galleries across the United States, including Chicago's four Arts & Artisans stores. She's even managed to snag a few celebrity customers, such as Jon Bon Jovi, Tommy Hilfiger and Taylor Swift.
"It's pretty amazing," she admits.
Braden has been artistic all of her life, all while juggling marriage and motherhood. Her talents have afforded her the ability to create an array of art, and presently, she is exploring another dimension of herself by using recycled material and collectables to launch a new mixed-media series. So it's a safe assumption that these guitars are just a starting point for her remarkable ingenuity.
"I could wallpaper my bathroom with all the AARP mailings I've started to get," Braden says. "It's all good. What I've learned is to have confidence in your abilities and get yourself out there. You may just amaze yourself."
Arts & Artisans stores are located at 108 S. Michigan, 321 N. Michigan, 35 E. Wacker and 720 S. Wacker (in the Hilton).