Learning curve: John Hancock Observatory's Audio Sky Tour entertains and educates with some celebrity help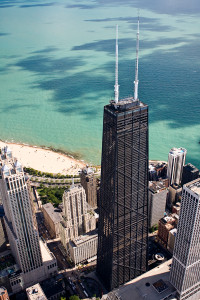 Your ads will be inserted here by
Easy Ads.
Please go to the plugin admin page to set up your ad code.
By Trent Modglin
Children, in general, can be easy to entertain, given the right circumstances, of course. But when it comes to entertaining them from an educational standpoint, when they know they only have a few more hours of their mini-vacation left, well,
that can be altogether different.
While hosting two of my cousins and their children for a personal Chicago field trip recently, we discovered the John Hancock Observatory has the right idea to solve such a dilemma, making it easy to entertain and educate at the same time. As if seeing the city from 1,000 feet above Michigan Avenue wasn't enough to astound the kids, doing so with the latest in electronic equipment in hand and a celebrity voice telling them where to look truly put the experience over the edge.
The Hancock launched its multimedia "Sky Tour" about a year and a half ago to rave reviews. Available for adults and kids in English, German and Spanish, the hand-held device is free with admission and provides visitors with a personalized guided tour. And you'll probably recognize the voice coming through the headphones. It belongs to none other than David Schwimmer of TV's "Friends" fame. Schwimmer, who attended Northwestern University, has developed a strong bond with the city and helped cofound Chicago's Lookingglass Theatre.
Your ads will be inserted here by
Easy Ads.
Please go to the plugin admin page to set up your ad code.
On a clear day, the 360-degree view from the Hancock's 94th floor spans some 80 miles and covers four states, showcasing an impressive landscape. The telescopes, history wall, skydeck and unique photo opportunities add a lot to any visit, but it was obvious the audio tour was what had the kids mesmerized. Engaging and informative without talking down to them, Schwimmer makes Chicago's history and architecture relevant to a younger crowd. With Schwimmer utilizing a conversational style, one of the kids said it felt like he was standing next to her.
Sound effects like trains, waves and the Chicago Bulls' announcer, along with brief interviews with locals and longtime newspaper reporter Rick Kogan, make the Sky Tour that much more lively.
"I remember years ago when we'd come up here, and the sights were great, but without the information the kids could relate to, you'd be done in 15 minutes," said my cousin, Alene Fagan. "Now, it gives you more of an opportunity to really appreciate Chicago."
And when on vacation, who can argue with that?
The John Hancock Observatory is located at 875 N. Michigan Ave. Visit www.HancockObservatory.com for more information.
Your ads will be inserted here by
Easy Ads.
Please go to the plugin admin page to set up your ad code.