Chicago Brew Bus: Day drinking at its best, this social outing brings out the beer aficionado in all of us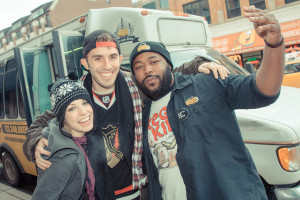 Your ads will be inserted here by
Easy Ads.
Please go to the plugin admin page to set up your ad code.
By Richard Ray
Details: Tickets for guided brewery tours are $59.99 per person and include transportation and 4-6 samples of beer at all three stops. Buses are also available for rental for pub crawls and parties. (773) 340-2739. www.ChicagoBrewBus.com
Background: The Chicago Brew Bus was launched by two friends, Kevin Salvi and Chris Ivy, whose "refusal to grow up" and shared love of quality beer guided them on this project. My tour started at the Goose Island brewpub on Clybourn and took thirsty travelers to two other Chicago breweries over the span of four hours. The brewery destinations vary by what time you take the tour. We whet our whistles at Atlas Brewing in Lincoln Park and Haymarket Brewing in the West Loop after taking the informative and tasty tour at Goose Island.
What to expect: Nik White, our tour guide, is a laid-back and knowledgeable beer buff who provides an informative and enjoyable atmosphere on and off the bus by spouting tidbits of beer history and science. The tour is by no means a "shut up and listen" experience. Conversation is encouraged and enjoyed regardless of subject matter. The brewery stops are informative and sociable, allowing time for idle conversation and questions for bartenders and brewers.
Your ads will be inserted here by
Easy Ads.
Please go to the plugin admin page to set up your ad code.
You're also encouraged to pick up beer from the breweries or a nearby liquor store to drink on the bus. Coolers on the bus combined with a Bluetooth radio connection created a fun atmosphere for the drive between breweries.
What stood out: The initial tour at Goose Island is the most interactive, where an experienced professional shows off the equipment and explains the science behind the various in-house brews the guests are sampling. Each brewery offers samples of various craft beers, and afterward you can purchase a pint of whichever one(s) you liked best. Some of the beers have a high alcohol content, so be mindful of what you're drinking.
The tour group size is large enough to socialize yet small enough to not got lost in the noise, which makes for an enjoyable experience where friends are made fast.
Final thoughts: Show up early to Goose Island to get something to eat (you'll need it). The Brew Bus tour is a day-drinking delight that quashes any snobbishness that might be associated with the craft beer scene.
Curious newcomers and seasoned drinkers alike will have a great time learning about one another and the beer that brought them together.
Your ads will be inserted here by
Easy Ads.
Please go to the plugin admin page to set up your ad code.